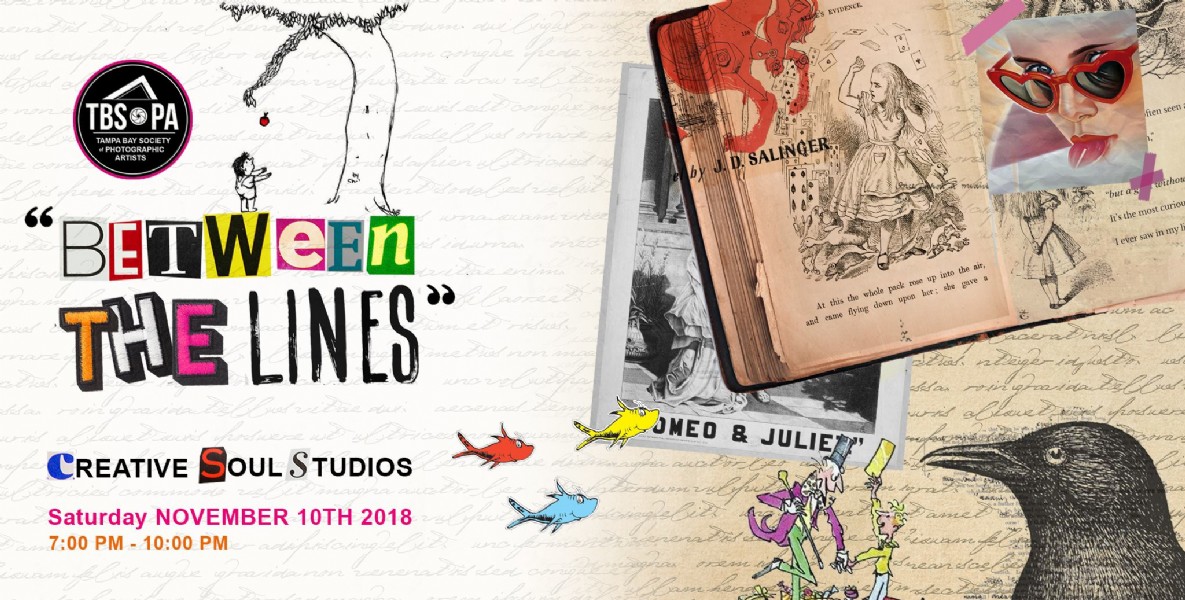 Inspired by their favorite literary works, members of the Tampa Bay Society of Photographic Artists present Between the Lines on November 10, 2018 at 7pm at Creative Soul Studios. The show will feature 50-60 works from photographic artists depicting the most inspiring, curious, troubling, romantic, and adventurous stories from the pages of their favorite books, poems, stories, and historical records.
Theme: photographic art inspired by literature
Submission Fee: $25.00
Submission Rules
Please follow these rules for submitting images to any TBSoPA contests, events, or exhibits.
Unless otherwise specified, only photographic art pieces are accepted.
Only paid members are permitted to showcase in our exhibits, unless otherwise indicated in the event information. To become a member, click here.
Images must be 2000 pixels along the longest side
No watermark
Name each images using the artist name + title + size in inches. For example, "JoseGomez_PlayMeASong_12x18.jpg"
Maximum of 10 submissions
Please note that the final works must be printed and framed.
Matting is optional. Frames must be black or white standard gallery frames. Frames must be wired for hanging - no sawtooth or other types of hanging systems are accepted.
Any submissions or art that does not meet the above criteria will not be accepted under any circumstances.
Step 1: Submit Your Art
Please note that for this exhibit, you must submit your artwork as well as a literature excerpt or reference for each work. Please include this in one Word document for each piece using the same file name as your image.
Step 2: Pay the Submission Fee
Share the Facebook!
(To Come)